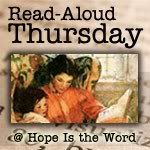 Okay, I know it is Friday. But could we just
pretend
it is Thursday? Because I really did mean to post this yesterday! ;)
We finally finished
Black Beauty
by Anna Sewell. Yahoo! We were all a bit disappointed. Seriously- could any more depressing things occur in one book to one character? A book doesn't have to be all happiness but this one just seemed so gloomy.
On Wednesday, we also started a new read aloud:
Bambii
by Felix Salten. I'll post about it when we are done!
Be sure to click on the button above to see more Read Aloud Thursday posts! It's been good to get back to reading aloud!
- Heather